Distinct features
High Eye develops and builds a state-of-the-art UAV that is able to fly long range missions.
Affordable long range VTOL UAV
Comparing HEF 32 vs Manned Helicopter
The HEF 32 VTOL UAV can replace a manned helicopter in many missions. The operational cost of the HEF 32 is very low, when compared to an equivalent lightweight manned helicopter.
Operational costs: fuel & pilots – Maintenance costs: (un)scheduled maintenance and inspections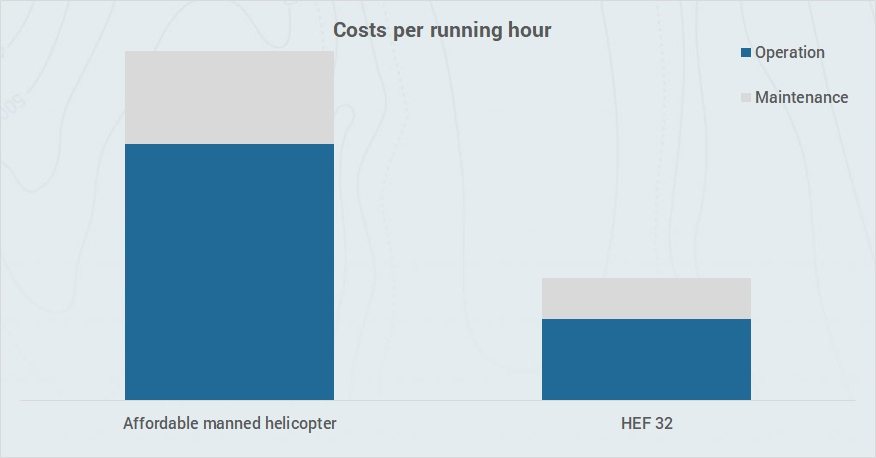 TAKE-OFF, HOVER FOR HOURS AND LAND ANYWHERE
Comparing UAV types: VTOL vs Fixed Wing vs Hybrid
To be able to replace current manned missions without compromising on operational flexibility, High Eye has focussed on the existing advantages that manned helicopter systems have: taking-off and landing anywhere and being able to hover and fly at low altitudes.
VTOL
(High Eye)
Fixed Wing
VTOL Fixed Wing
Hover & Low Speed
+++
– –
– –
Take-off & landing space
+
–
-/+
Endurance & Distance
+/++
+++
+++
AFFORDABLE LONG ENDURANCE AND BVLOS CAPABILITY
Comparing UAV types: Petrol vs Electric
The fuel driven piston engine of the HEF 32 UAV provides an optimal combination of weight, power and reliability. It provides continuous power for hours in a row without recharging or battery replacement. A short refueling stop is all that is needed to continue the mission.
Piston
(High Eye)
Manned
Turbine
(UAV)
Electric
(Drone)
Endurance & Range
++
+++
+
–
Cost of Operation
$ $
$ $ $ $ $ $
$ $ $ $
$
Mobility
++
– –
+/-
+++
All Weather (dust/water)
++
++
++
–
Payload Weight and Capability
+
++++
++
+/-
Automatic Take-off / Landing and Navigation
++
++
++
+/-
Regulations / Certification
+
– –
– –
++
Safety in case of incidents
+
– –
+
++